ABIM Practice Test
If you want to become a certified American Board of Internal Medicine physician, you must pass the computer-based ABIM exam in your area of study. The ABIM practice test will show if you are ready for the exam. You will answer up to 260 multiple-choice questions, depending on your subtest, over four sessions with breaks. The ABIM exams have an 8 hour testing time limit. However with all the breaks included, you will likely be busy for up to 10 hours. As for scoring, your test report will be available to you within 3 months after the last test in your area is completed. The free practice test covers the same areas, so check out some of the questions from our question bank below!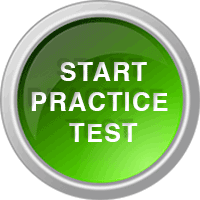 What is the ABIM exam?
The ABIM exam is an exam that measures a physician's level of knowledge, skill, and professionalism. This exam is required by most hospitals for a physician to earn their admitting privileges.
How much does it cost to take the ABIM exam?
The initial certification for ABIM for Internal Medicine or Focused Practice in Hospital Medicine costs $650 to take. For each subspecialty that you wish to specialize in, the cost is $1,200.
How long does it take to get the ABIM scores?
You will receive your ABIM score results within three months of taking the exam. Your scores will also be available for up to two years.
What score do you need to pass the ABIM test?
To be considered as passing the exam, you must have a standardized score that is equal to or exceeding the standardized passing score, which is 500 for first-time exam takers. However, each ABIM Subspecialty exam has its own passing score depending on the subspecialty you choose to go into.
How many questions are on the ABIM test?
The ABIM test is broken up into three sections which each section contains 60 multiple-choice questions. You are given two hours to complete each section of the exam.
Best ABIM Exam Review Tips!
ABIM Study Guide
Mometrix Academy is a completely free Internal Medicine Board review resource provided by Mometrix Test Preparation. If you find benefit from our efforts here, check out our premium quality ABIM study guide to take your studying to the next level. Just click the study guide link below. Your purchase also helps us make even more great, free content for test-takers.
Mometrix Academy – Home
Provided by:
Mometrix Test Preparation
Last updated: 07/12/2018
Find us on Twitter: Follow @Mometrix