ABIM Practice Test
Internists, or those who practice internal medicine, see adult patients across a wide spectrum of the medical field. They diagnose and treat patients in several fields. The American Board of Internal Medicine has developed a challenging certification exam for anyone who wants to go into this profession. The test blueprint is below, and we've also included information on study guides to help you prepare for the exam.
What are the certification requirements?
In general, candidates must complete the needed predoctoral medical study, meet training requirements, demonstrate clinical competence in caring for patients and meet licensing requirements. The American Board of Internal Medicine.
How many questions are on the Internal Medicine certification exam?
The exam has a maximum of 60 questions, and they are all multiple choice.
How long do I have to complete the test?
Candidates have two hours to finish the exam.
How much is the exam fee?
The certification exam fee is $1,385
Check Out Mometrix's ABIM Study Guide
Get practice questions, video tutorials, and detailed study lessons
Get Your Study Guide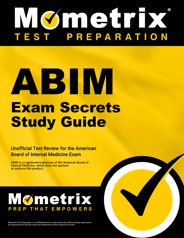 What's on the Internal Medicine certification exam?
The questions test knowledge in these areas: diagnosis; test results (ordering and interpreting); treatment recommendations; risk assessment, prognosis determination, and principals from epidemiologic studies; and understanding a disease's underlying pathophysiology.
The test has 18 primary content categories, with all test questions falling into one of the sections. The Cardiovascular Disease section, comprising 14 percent of the exam's questions, is the largest test category. Five other content categories (noted below) each comprise nine percent of the test questions. The full list of content categories is:
Allergy and Immunology
Cardiovascular Disease
Dermatology
Endocrinology, Diabetes, and Metabolism (9 percent)
Gastroenterology (9 percent)
Geriatric Syndromes
Hematology
Infectious Disease (9 percent)
Nephrology and Urology
Neurology
Obstetrics and Gynecology
Medical Oncology
Ophthalmology
Otolaryngology and Dental Medicine
Psychiatry
Pulmonary Disease (9 percent)
Rheumatology and Orthopedics (9 percent)
Miscellaneous
Each of the 18 categories contains subsection content on which candidates will be tested. Subsection content includes:
Asthma, food allergy, transfusions, and their allergic complications
Hypertension, pericardial disease, heart diseases (valvular, vascular, congenital, etc).
Acne, infections of the skin and soft tissue, pigment disorders
Lipid disorders, male reproductive health, anterior pituitary disorders
Issues facing the elderly, including dementia, nutrition and swallowing disorders
Anemia, platelet disorders, bone marrow transplantation
Infections (skin and soft tissue, eye, etc.), infections of the upper and lower respiratory tracts, hepatic infections
Renal failure, chronic kidney disease, urinary tract infections
Seizures, headache, cerebral functions disorders, tumors of the central nervous system, primary neurological disorders such as injuries to the head and spinal cord
Breast, ovarian and uterine disorders, pregnancy issues (hypertension, liver disease, ectopic pregnancy, etc.)
Cancers, including lung, breast, urological, cardiac and bone
When is the exam available?
The test is generally available in August of each year, with registration December through April.
How is the test scored?
The test is scored on a pass/fail basis. Since 2013, at least 86 percent of first-time applicants have passed the exam.
What identification should I bring on test day?
You should bring a primary and secondary piece of identification. The primary identification should contain a signature and a photograph. A driver's license or passport are among the acceptable form of ID. Secondary forms of ID must include either a photo or signature. A valid credit card and a social security card are examples of acceptable secondary forms.
What personal items are allowed in the testing room?
The short answer is, none. Electronic devices of any kind are not permitted. Wallets, jackets, purses, coats and the like are prohibited, as are any pens, pencils, and notebooks. Candidates will receive an erasable whiteboard for notes on the day of the exam.
Check Out Mometrix's ABIM Flashcards
Get complex subjects broken down into easily understandable concepts
Get Your Flashcards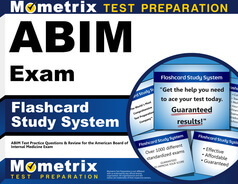 When will I get my Internal Medicine certification exam test results?
Candidates will receive their results within about three months.
Where can I find study materials to help me prepare for the Internal Medicine certification exam?
Mometrix has the study materials for you. Our study guide, written by professionals in the test field, shows you how to solve test problems. We'll show you how to avoid panicking when you don't know an answer, which is critical information since all the questions count. Our flashcards provide questions with clear answers and can be used to study wherever you are. These excellent study tools are the ones you need to help you prepare for the Internal Medicine certification exam.
ABIM Study Guide
Mometrix Academy is a completely free Internal Medicine Board review resource provided by Mometrix Test Preparation. If you find benefit from our efforts here, check out our premium quality ABIM study guide to take your studying to the next level. Just click the study guide link below. Your purchase also helps us make even more great, free content for test-takers.
ABIM Study Guide Customer Success Stories
Our customers love the tutorial videos from Mometrix Academy that we have incorporated into our ABIM test study guide. The ABIM study guide reviews below are examples of customer experiences.
I liked the way the topics were covered, concisely but still thorough, and after studying them I feel much more prepared to take the exams.
ABIM Study Guide – Customer
Great exam tips. Great information given in a console, easy manner to read and learn from. Recommend this to anyone sitting for the ABIM Internal Medicine Boards examination.
ABIM Study Guide – Customer