Maybe you've decided to continue your education and go back to school for your Master's degree. Getting an advanced degree can create many opportunities for you such as a higher position within your company, or you could even start a new career.
Most graduate schools in the country require entering students to take an admission test for admission into their school. The test that many graduate schools require is the GRE.
How to Study for the GRE
GRE Practice Test
GRE Online Coursee
What is the GRE?
The GRE is the Graduate Record Examination. The purpose of the GRE exam is to help graduate schools decide which students would be successful in their program. Students are tested on their reasoning, critical thinking, and analytical skills which are skills that you have developed over the years. More than 1,200 graduate schools accept the GRE.
What to Expect on the GRE | 2019-20 GRE Test Dates
What's on the GRE?
The GRE contains three sections:
Verbal Reasoning measures your ability to:
Analyze and draw conclusions from discourse
Reason from incomplete data
Identify the author's assumptions and/or perspective
Understand multiple levels of meaning such as literal, figurative, and author's intent
Select important points
Distinguish major from minor or irrelevant points
Summarize text
Understand the structure of a text
Understand the meaning of words
Sentences and entire texts
Understand relationships among words and among concepts
GRE Verbal Reasoning Practice Test | GRE Verbal Reasoning Study Guide
This section will include questions over sentence completion, analogies, antonyms, and reading comprehension. The Verbal Reasoning section tests your ability to form conclusions from written materials, recognize relationships between concepts and words as well as to determine relationships between different parts of sentences.

You're given 30 minutes to answer 20 questions for the Verbal Reasoning section.
Quantitative Reasoning measures your ability to:
Understand, interpret, and analyze quantitative information
Solve problems using mathematical models
Apply basic skills and elementary concepts of arithmetic, algebra, geometry, and data analysis.

The Quantitative Reasoning section also allows you to use an on-screen calculator. This section tests your skills at solving a variety of different math problems as well as your ability to quantitative reasoning. You'll be given 45 minutes to complete 28 questions.
GRE Quantitative Practice Test | GRE Quantitative Reasoning Study Guide
Analytical Writing measures your ability to:
Articulate complex ideas clearly and effectively
Support ideas with relevant reasons and examples
Examine claims and accompanying evidence
Sustain a well-focused, coherent discussion
Control the elements of standard written English
This section also requires you to provide focused responses based on tasks that are provided. This is also the first section that you'll take on the GRE test.
In the Analytical Writing section, you're given two essays to complete. With the first essay, you're given a paragraph on a general issue and you're required to address that topic as you see fit. This essay will measure your ability to support your views with sound reasoning and how you use examples. You're given 45 minutes to complete this essay.

The second essay is similar to the first but this essay will require you to read and critique an argument. This essay measures how you consider the reasoning that is presented in the argument and you'll be required to discuss whether you believe the argument is a good one or not. You'll need to analyze the argument and convey your reasoning. You're given 30 minutes to finish this essay.
GRE Analytical Writing Study Guide
How is the GRE Scored?
Each section on the GRE has its own score. Both the Verbal Reasoning and Quantitative Reasoning sections are scored on a scale of 130-170, in one-point increments. The Analytical Reasoning section is scored on a 0-6 scale, in half-point increments.
For both Verbal Reasoning and Quantitative Reasoning sections, the scores are based depending on the number of questions you answered correctly. The number of questions you got correct gives you your raw score. This raw score is then converted into the scaled score. Since these sections are scored on a scale of 130-170, 130 being the lowest score possible and 170 being the highest score possible, there are 41 possible scores that you can receive.

The Analytical Writing section is scored a bit differently. Your essay is read not only by a trained grader but also by an e-reader (computer program) that measures your writing in multiple areas. If the e-reader has a score that is close to the trained grader's score, the average of those scores is used for your final score. The Analytical Writing section is scored from 0-6, which gives you only 13 possible scores.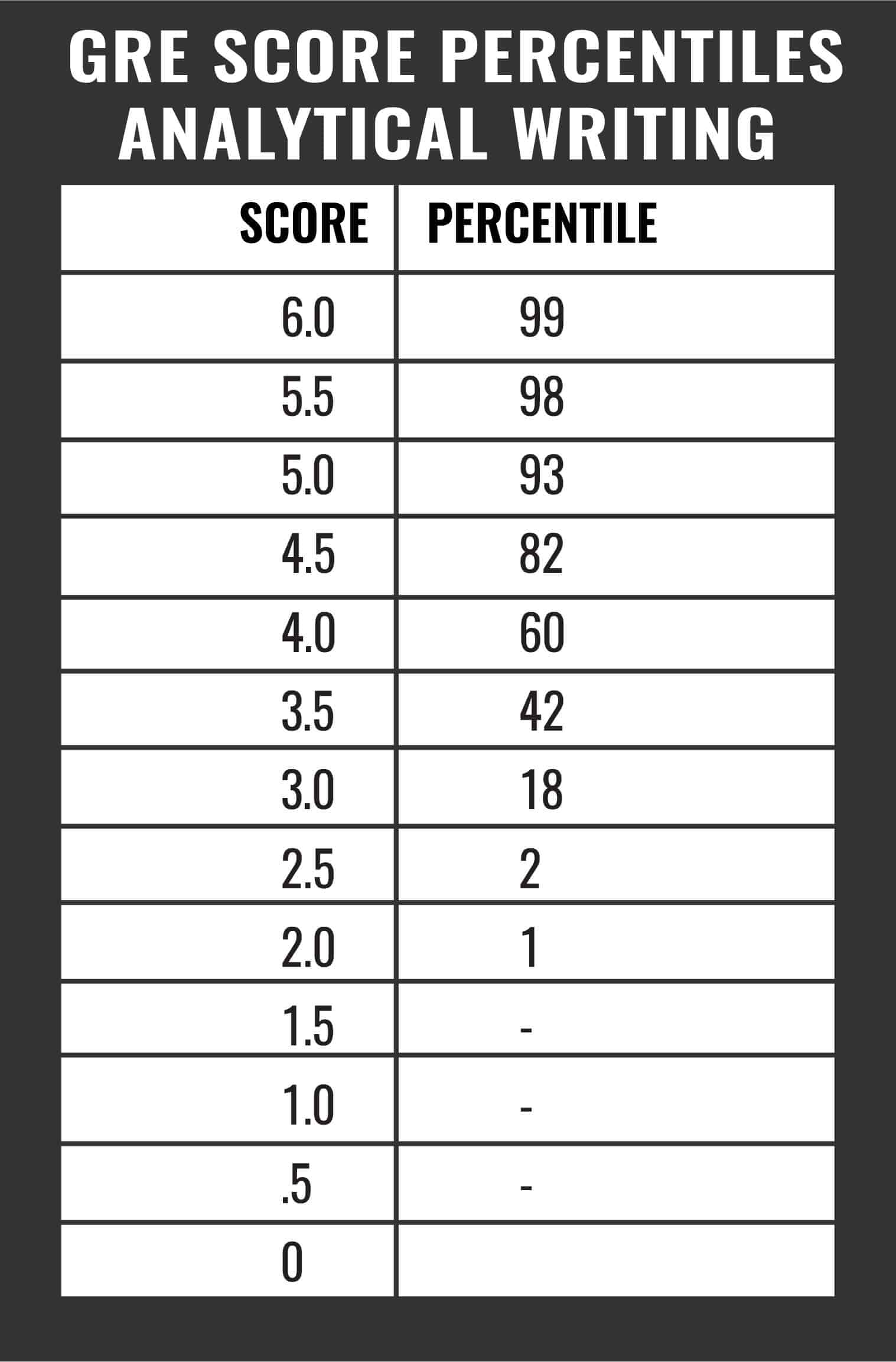 According to ETS, the average GRE score for test-takers from July 2013 to June 2016 was 150 on the Verbal Section and 153 on the Quantitative Reasoning section.