You probably already know that an MBA has something to do with business school and that it's a type of a Master's degree. You probably also already know that an MBA can set you up for career success.
But, what does MBA stand for?
MBA stands for Master of Business Administration. The Master of Business Administration is a graduate degree for business professionals who want to go further in their careers. Having an MBA also helps to expand your professional network and create new opportunities for you.
An MBA degree is a comprehensive degree that focuses on your skills in critical thinking, leadership, communication, and problem-solving. Having an MBA degree can help you prepare for leadership and management positions in the business field.
What Do You Learn in an MBA Program?
The short answer: a lot.
You'll start by learning the core courses during your first year in business school which will be the basics of general management. However, the core courses you will take can vary depending on which business school you attend, but most business schools focus on the same key content areas.
Accounting
Finance
Marketing
Human Resources
Operations
Microeconomics
Leadership and Ethics
Project Management
Communication
There are also five areas that will help improve your performance as a student:
Interpersonal skills and working efficiently and collaboratively with others
Strategic thinking and understanding what steps companies must take in order to succeed
Entrepreneurial skill, or evaluating markets, setting ambitious goals, and thinking creatively
Communicating skills and conveying core values and strategies to others
Leadership skills and inspiring team members to contribute meaningfully
MBA Specializations
When you start business school, you may decide that you want to specialize in one area while you're working on your MBA.  Many students choose to stay with a traditional specialization such as finance, marketing or general management.
If you choose to specialize in a different area, there are many options to choose from:
General Management
International Management
Strategy
Consulting
Finance Leadership
Entrepreneurship
Marketing
Operations Management
IT or Technology Management
And this is just a FEW of the specializations that are offered for MBA programs!
If you know that you want to specialize in an area before you start your MBA program, be sure to check to see if the school you're attending offers that concentration. Unfortunately, not every school offers the same specializations.
What are the Different Types of MBA Programs?
Going back to school for your MBA isn't quite the same as when you were working on your undergraduate degree. Most MBA programs are geared towards those who already have full-time employment and any other responsibilities.
When you've decided that working on an MBA is right for you, you'll need to decide what type of program will work with your job schedule and your other responsibilities.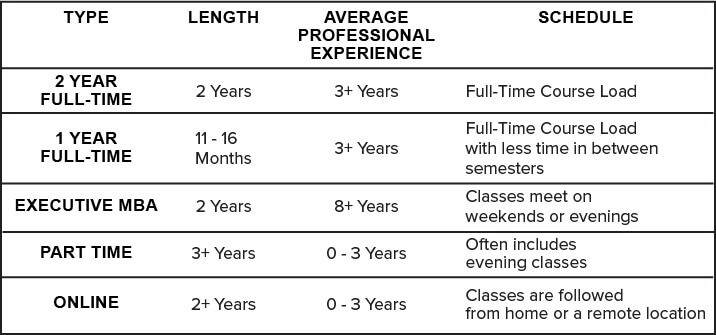 2-Year Full Time
A 2-year full-time MBA program lasts for 4 semesters that are spread out over 2 academic years. You'll need to have 3 or more years of work experience to qualify for a 2-year program.
With a 2-year program, you'll have the opportunity to learn more with internships and other projects. You'll also have access to social and professional clubs, speaker series, and other activities.
1-Year Full Time
1-year full-time MBA programs last between 11 and 16 months. Most of these programs have strict prerequisites for both work and academic experience. This is because you will be completing a full MBA curriculum in a compressed time frame.
With this type of MBA program, you'll be able to advance your career in a shorter amount of time. However, a 1-year program is an intense program and there usually aren't extended semester breaks in a 1-year program.
Executive MBA or E-MBA
An Executive MBA can usually be completed in two years or less, which is faster than a traditional part-time MBA program. With some business schools, classes generally meet on Friday and Saturday and alternate weekends. This program is suitable more for those who want to take the next step in leadership.
Part Time MBA
A part-time MBA offers flexibility in your schedule that allows you to work and take care of your responsibilities. Many programs run year-round and have classes that are scheduled outside of normal business hours. You also have the flexibility of choosing how many classes you will take. However, being in a part-time MBA program means that you will generally complete the program within four or five years.
Online MBA
An online MBA offers flexible options to help you obtain your MBA while you still work and take care of your responsibilities. They also allow you to spread out the classes over time and allow you to take classes at your own pace. An online MBA can take up to 2 years to complete depending on how many classes you decide to take at one time.
How to Get Into Business School
Just like when you were picking out a college to complete your undergraduate degree, there were a lot of things that you needed to do before you were admitted into that college. The same goes for getting into business school to start your MBA program.
1.Figure out what your goals are
You obviously don't want to get into business school just to say you have an MBA. That takes a lot of time and money. You'll need to figure out exactly WHY you want to go to business school for an MBA. Not only will figuring that out help you in the long run by sticking to a specific goal, but admissions committees want to see that you set clear goals for yourself.
2. Find the MBA program that works for you
When you're deciding on which MBA program to go with, you need to make sure that the program aligns with the goals you have set for yourself. You'll want to make sure that the program you choose will give you the right skills for your career. If you want to specialize in marketing, you wouldn't want to take classes in operations management. You'll also want to pick a program that will work with not only your work schedule but your personal life as well.
3. Figure out if you need to take the GRE or the GMAT
Most business schools, if not all require you to take an entrance exam prior to being accepted into their MBA program. You'll be required to take either the GRE or the GMAT. Fortunately, you won't have to take both exams! The GMAT exam is usually the exam that is accepted at all business schools. However, some schools do not require the GMAT and rather require the GRE. It's best to do research on the school you're applying to see which exam they require. This way you do not take one exam, but the school requires the other. You'll also need to see what score your program requires.
4. Give your resume a makeover
Admissions will want to see what kind of job experience you've had in the past. Most schools will require that you've had a few years (usually 3 to 5 years of professional experience before they apply to an MBA program. They want to make sure that you are willing to be a team player who has strong communication skills. When you're updating your resume, you'll want to make sure that you list any current experiences and any skills you may have.
5. Get together your letters of recommendation
You'll need two or three letters of recommendation. These letters should be written by people who have worked with you, that knows you well as well as your work style. Business school admissions will want to know about your relationships with your managers and professors.
6. Start sending in your applications
When you've got everything together and have taken either the GMAT or the GRE, it's time to start sending in applications to the schools of your choice. It's a good idea to see if the school has rolling admissions or if there is a hard deadline. Many business schools will continue to let applicants in until all of the seats are filled.