You probably already know that law school is tough.
But someone else says that medical school is tougher.
No, law school is tougher than medical school.
Which is tougher than the other?
If you're thinking about your future and which route you want to go, you probably have a lot of questions when it comes to which route you really want to take.
Law can basically be boiled down to lawyers resolve legal problems for their clients. Medicine is boiled down to: doctors resolve medical problems of their patients.
Both routes have the potential to be incredibly fulfilling and rewarding but both can also be long and challenging.
Acceptance
Both law school and medical school offer challenging environments to their students because they want their students to be the best lawyers and physicians.
It's also easier for students to be accepted into law school rather than medical school. Law school requires fewer pre-requisites except for a bachelor's degree, which can be a degree in any subject. Medical schools require prerequisites such as biology or pre-med degree as well as science electives in your undergrad degree.
Every school has its own acceptance requirements; this includes medical schools and law schools.
The general requirements that medical schools have for entrance include:
• High school diploma
• Undergraduate degree in the Science field
• A minimum undergraduate GPA of 3.0
• Good TOEFL language scores
• Extracurricular activities
• Minimum MCAT exam result (each medical school sets its minimum score requirements)
• Completion of premed courses such as:
  -1-year college biology with lab
  -1-year general college chemistry
  -24 hours in Humanities
  -1-year Math (Calculus/Statistics)
  -1-year general college physics with lab
The general requirements for entrance into a law school include:
• High school diploma
• Undergraduate degree with no specific undergraduate courses required-students are admitted to law school from almost every academic discipline
• Have a GPA of at least 3.0 for most law schools or a 3.5 GPA for top law schools
• LSAT test scores
• Letters of Recommendation
• Personal Statement
What You Learn and How You Learn It
Both medical schools and law schools have challenging curriculums for their students. 
The purpose of medical school is to train physicians. Medical students start off the first two years by building a foundation in science such as basic science, pathology, and pharmacology, and then move on to clinical knowledge through problem-based learning. Medical students are required to memorize medical terms, body systems, and diseases. Depending on your school, students generally take four or five courses at a time.
The first two years of medical school often include clinical opportunities. After these two years, you'll be required to take Step 1 of the USMLE exam to measure what you have learned so far. 
Once you have passed the USMLE, you'll move on to your final two years of medical school.
The final two years of school are usually dedicated to clinical training.  This is when students start working in hospitals, rotating in different wards such as surgery or pediatrics. You'll also start learning more about specializations that may interest you. 
The goal of law school is to teach you law and to "think like a lawyer". Law school relies more on reading, writing, and classroom time. The professors in law school engage their students in reciting case facts as well as applying legal principles on the spot. You're taught how to break down legal problems into smaller individual problems and how to analyze them. 
You'll be taught about real estate, tax, intellectual property, evidence, trial advocacy, and so much more pertaining to law. 
Law school is more about thinking and memorization than it is about success. You need to know how to understand and how to reason rather than memorize. Many schools have one exam at the end of each semester, but that one exam may count for 100% of your grade.
In short, medical school is hands-on and requires a lot of memorization. Law school requires analytical work and critical thinking. Law school requires heavy reading and writing while medical school requires learning about problems through clinical studies and hands-on training.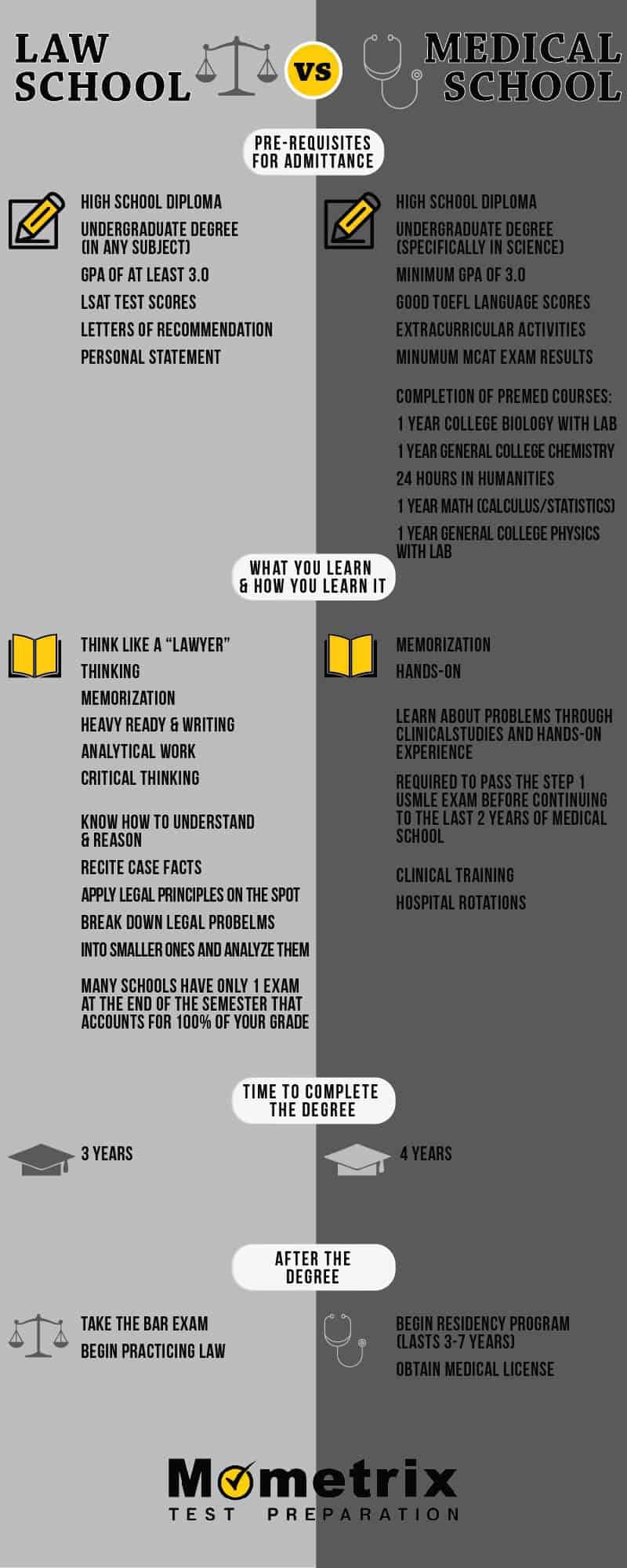 Time to Complete the Degree
After completing your bachelor's degree, it takes an additional 4 years to complete a medical degree. However, it only takes 3 years, after your bachelor's degree, to complete a law degree.
After the Degree
After getting your medical degree, you'll start a residency program which is basically an internship for a doctor. Your residency program will usually last between three to seven years. On the upside, you'll be working immediately after finishing your degree. 
Once you complete your residency, you can then obtain a medical license in your state.
If you choose to get your law degree, you can usually start practicing law immediately after graduation, as long as you have passed the bar exam. However, it may take some time to start working for a firm, possibly longer if you choose to work for yourself. 
So which degree is tougher?
One student may say that medical school is tougher while another says that law school is tougher. In reality, it really depends on you, how you learn, and your natural abilities and aptitude of being a student. Students who prefer science more may choose medical school while those that prefer writing and presenting arguments may choose a law school. 
In medical school, you have a lot of hands-on learning as well as being required to memorize things such as medical terms and parts of the body. In law school, you'll be required to do heavy reading, writing, and learning about every aspect of the law. 
So is law school tougher than medical school? At the end of the day, it really depends on you and how you learn.