So you're getting ready to go to law school. You've taken your LSAT, done your law school interview and you're prepared to spend time in law school.
But exactly how long will you be in law school?
Law school prepares students how to understand and work with the legal system by having students go through extensive training. Law students are taught how to write briefs, develop critical thinking skills, and other skills that are necessary for becoming a lawyer.
Top 50 Law School Interview Questions
So, how long does it take to get through law school?
For many law students, the average time for law school is about three years. However, law school can take anywhere between three and five years, depending on what type of program you are admitted into. If you enroll in law school as a full-time student, you can complete your program within 3 years. If you choose to enroll as a part-time student, you may complete your program between four and five years.
Law School Timeline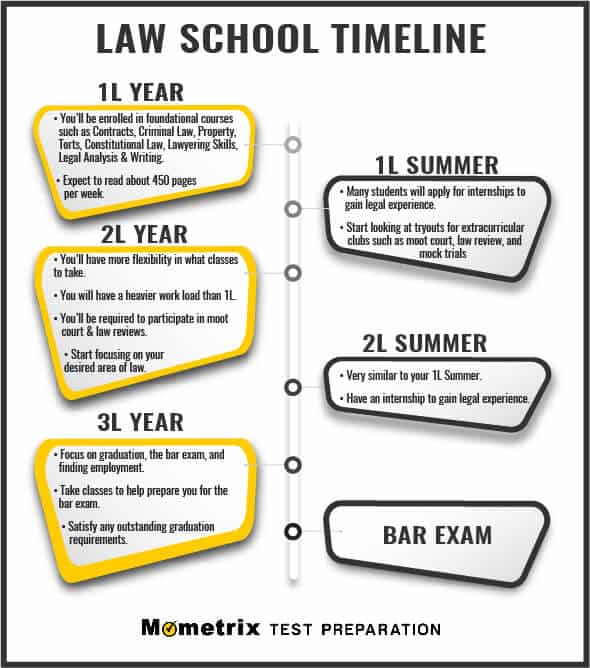 What Can I Expect in Law School?
Law school is going to be quite different than when you were working on your undergraduate degree. Each law school is different but adheres to a similar structure during your time there.
Law students are divided up by their class year: 1L, 2L, and 3L.
During your first year in law school or 1L, you will be required to read and summarize hundreds of cases. You'll typically be assigned to read about 30 pages per credit hour, which is about 450 pages per week. You'll need to learn how to read quickly while being able to comprehend complex material. Being able to comprehend the material is just as important as being able to read through all of the material. You'll need to be able to pick out important information and connect diverse pieces together and then communicate it to others.
Having exceptional writing skills is important for a first-year law student. A large part of being in law school is being able to write a well-written essay. You must also be able to write an essay clear and concise under time constraints.
During your first year in law school, you'll be in classes covering the foundational curriculum and you won't have a lot of flexibility in the courses that you'll take.
You'll take classes covering:
Lawyering Skills
Constitutional Law
Contracts
Criminal Law
Legal Analysis and Writing
Property
Torts
During your 1L summer, you'll want to focus on getting some sort of legal experience. This means that you'll need to find some sort of internship of a summer job in the legal field. Having practical experience is crucial to your development of becoming a lawyer and it's a good opportunity to boost your resume as well as giving you opportunities to network.
Law schools also offer tryouts for extracurricular clubs such as a moot court, law review, and mock trials during the summer semester. If this is something that interests you, you should treat this as you would any other school assignment. Put your full effort into these tryouts so that you can impress the board.
You'll have a lot more flexibility in which courses to take during your second and third years of law school. Even though you'll have more flexibility, there are some classes that you'll be required to take such as administrative law, business organization, and evidence.
Second-year law students will have more of a workload than they did in their first year. You'll be required to participate in moot court and law reviews. Many students choose to work part-time at a law firm to gain experience.
Your second year of law school is when you should start honing in on a particular area of law that may interest you. This is the time when you should start taking courses that are in your desired area of law. If you're not sure what area you want to practice, you can take a variety of classes to help figure out which area you want to pursue.
The second year of law school is when you also want to start concentrating on the bar exam and begin familiarizing yourself with it.
Your 2L Summer will be very similar to your 1L Summer. You will need to find an internship just as you did during 1L Summer. Our first summer, you should try to make a great impression. Many firms may even offer a law student an associate job after they pass the bar exam.
In the third year of law school, most students are focusing on graduation, the bar exam, and finding employment. Along with this, you should focus on taking "Bar Courses" to help you prepare for the bar exam.
The third-year also means that you'll need to make sure to meet any outstanding requirement for graduation such as a pro-bono requirement.
Law school can be challenging, and no matter which path you take to earn your law degree, it's an investment in your future.