For many people, becoming a doctor is a lifelong goal. They understand that there will be a lot of work and a lot of schooling to become a doctor. Becoming a doctor takes time to learn everything you need to know.
When you decide to pursue a medical degree, you're making a serious commitment to not only pursue your schooling but to also make a lifelong commitment to helping in fighting disease and promoting wellness.
If you're one of the many people who want to become a doctor, you may be among those who are wondering how long medical school and what to expect during schooling.
How Long is Medical School?
The short answer: 4 years.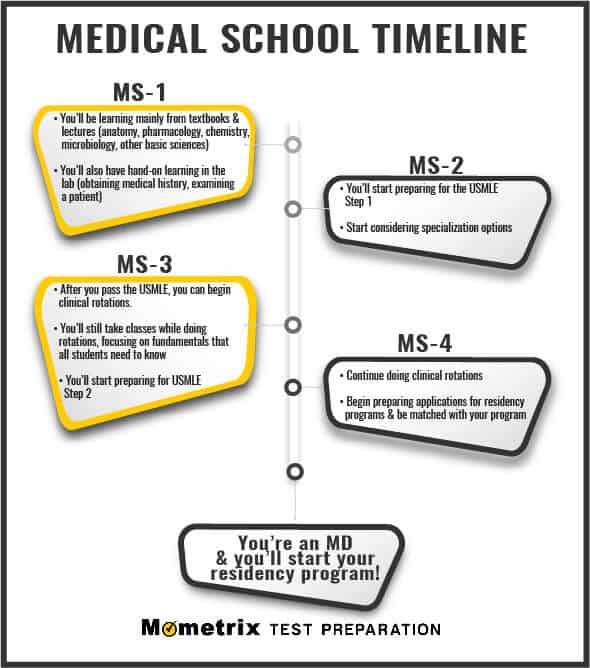 What Can I Expect During Medical School?
Medical school is four years long and is usually broken up into two-year blocks; pre-clinical and clinical. The first two years are composed of "book work" and the last two years are "clinical work".  
The structure of medical school can vary from school to school. Some medical schools focus on one topic for 4 to 6 weeks before moving on to the next topic. Other schools may have you focus on 4 to 5 different courses all at once over a longer period of time.
Year 1 and Year 2
Your first year as a medical student (MS-1, or Medical Student 1) will probably be the most difficult year of medical school. During this first year, you'll be learning mainly from lectures and textbooks. You'll learn about basic sciences such as anatomy, pharmacology, chemistry, and microbiology. These classes may be very similar to what you might have taken in your undergrad classes. However, a typical medical school schedule involves about 15 to 20 hours of lecture a week.
You'll also have some hands-on time while learning in the lab while you learn about the basics of obtaining a medical history and examining a patient.
During your second year of medical school (MS-2), you'll start to prepare for the United States Medical Licensing Examination (USMLE) Step 1. This exam is just one of the three tests that you are required to take to demonstrate that you can apply basic science concepts to medicine. Most medical students decide to take this exam near the end of their second year of medical school before they start their clerkship rotations.
Your second year is the time that you'll start exploring different specialties in the medical field. You'll need to start researching different specialties to get a better understanding of your options.
Year 3 and Year 4
After you've passed the USMLE, you can begin clinical rotations in hospitals and clinics. While doing rotations, you'll be assisting residents in a particular specialty such as pediatrics, surgery, internal medicine, or psychiatry. You'll learn more about how to interact with patients and perform basic medical procedures.
The time that you'll spend doing clinical rotations depends on the hospital's focus or strength. For example, some schools require their students to do surgery rotation for three weeks, while other schools require surgery rotation for three months.
While you're doing rotations, you'll still take classes. Your third year is typically focused on the fundamental specialties that all students need to learn. You'll also start preparing for the USMLE Step 2 exam which is usually taken at the end of your third year or early in the beginning of your fourth year. This exam tests your knowledge that you've acquired during general internal medicine rotation and that you have basic clinical knowledge and interpersonal skills like communicating with patients and conducting physical examinations.
You'll still do clinical rotations during your fourth year of school. Many students also choose to take electives that fit their long-term career interests in order to strengthen their application to residency programs.
The fourth year of medical school is also the time that students prepare their residency applications. The applications are open around September 5 and residency programs begin receiving applications around September 15. Students will complete in-person interviews that occur between October and February and the programs will submit their own ranking of the applicants they desire.
Students are matched with a residency program based on a computer algorithm. Usually, in March, a Match Day ceremony occurs where medical students open their envelope to learn where they will be completing their residency and where they will be spending the next few years of their lives to complete their medical training.