You've probably been a nurse for a while and are ready to advance your career. Maybe you want to become a case manager and work one on one with patients and their family about their care. If that's the case, then you'll need to prepare for the CCM exam.
As with any exam, the CCM exam can be daunting. But here are a few things that you should know in order for you to pass the CCM Certification exam!
1. Know the Case Management Certification Exam
Sometimes studying and studying just won't cut it. Sometimes you have to go deeper and more in depth than just the content of the exam. You need to actually know the exam. Knowing the exam and learning the details about it can give you a little bit of a head start.
Here's what you need to know about the CCM Certification exam:
There are 180 questions on the exam.
You are given three hours to answer all 180 questions.
There are 5 major domains and 59 subdomains included on the exam.
2. Create a Study Schedule
Waiting until the night before your exam to cram just isn't going to work. Not only will you be exhausted the next day from staying up late, but cramming doesn't guarantee that you'll remember everything that you read the night before. Instead, try putting together a study schedule. Set aside a certain amount of hours each day to focus on studying for the Case Management certification exam.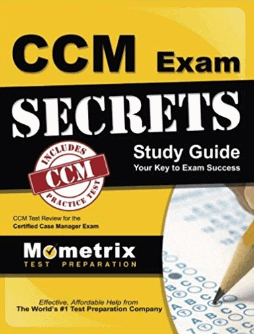 3. CCM Study Guide

You probably learned in high school that having a study guide is a great way to become prepared for an exam. The same logic applies to the CMM exam. Using a study guide to prepare yourself for the CCM exam will not only help you understand more about the actual exam but will also help you understand more of the details of the exam and what areas of knowledge you'll need to pass the exam.
4. Study the Exam Domains
There are 5 major domains that include 59 subdomains on the CCM exam offered by the Commission for Case Manager Certification (CCMC). This means that there is a lot of information that you need to know. Study the domain areas where you feel you need more work on. Also, don't spend most of your time working on a domain area that has only 10 questions. You'll end up neglecting to study the domain that has 40 questions.
5. The Exam Is Practice-Based
This means that there's really not a course that you can take to prepare for the CCM exam. Instead, the exam is based around what an experienced case manager should already know. You should already know and understand the content areas of the exam as well as the terminology and concepts that are relevant to case management. If you feel that you have less experience in any content area or with any concepts or terminology, our CCM Practice Questions can help.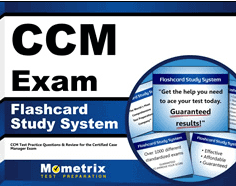 6. CCM Flashcards

Flashcards help you get down to the details of the concepts and terminology that you need to know. Flashcards also help you remember more information for the long-term. They will come in very handy when you need to remember the terminology that is on the CMM exam.
7. Divide Up The Material
The CCM exam has a lot of information that you need to remember. Divide up your study material into chunks and study a different chunk each day. Try to study in two or three-hour blocks. Not only will this maximize your attention to the material, but your mind won't be exhausted.
8. Know That a "C" Is Enough
It's understandable to want to ace the CCM exam or any exam at that. And while the CCM is practice-based, you should know that the CCM exam has a passing score of only 70%.
9. CCM Practice Test
You've heard the saying "Practice makes perfect", and this is true. If you feel like you a weak in some areas of the CCM exam, it's always a good idea to take a practice test. Taking a practice test is the only way that you're really going to know if you need more work in a specific area of the exam. When you take a practice exam, you'll not only understand which areas you need more work in, but you'll also get a feel of how the real exam will be. Ready to take a practice test? Check out our CCM Practice Test.
10. CCM Online Prep Course
Mometrix University offers a CCM online prep course that includes practice questions, study guide lessons, and flashcards. The course covers topics such as care delivery methods, psychosocial concepts, and rehabilitation strategies.
11. If You Need To, Guess
Sometimes you just can't come up with the answer to a question. So when this happens, it's okay to take a guess. Guessing is not penalized. If the answer you guess is wrong, it will count the same as an omitted answer. So, if you need to, take a guess.
CCM Certification Requirements
To become CCM certified, there are two requirements that must be met before you can sit for the exam. The requirements follow license and education or employment experience.
License or Education (you must hold ONE requirement)
You must have a current, active, and unrestricted licensure or certification in a health or human services discipline. Your license or certification must allow you to conduct an assessment independently.
OR
You must have a Bachelors or graduate degree in nursing, social work, or another health or human services field. Your degree must also be from an institution that is fully accredited and is a part of the education curriculum that includes experience in case management, health, or behavioral health.
Employment Experience (you must hold at least ONE requirement)
Twelve months of full-time case management employment within the last five years. This employment must have been supervised by a board-certified case manager that has been certified for at least one year at the time of your application.
Twenty-four months of full-time case management employment in the last five years. Supervision is not required for this.
Twelve months of full-time case management employment as a supervisor or individuals who provide case management services. This must have been done within the last five years.
For more information about CCM exam visit: https://ccmcertification.org/